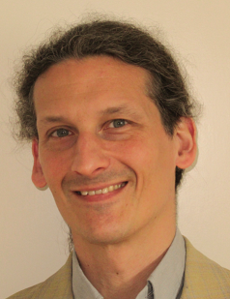 PD Dr. (Dipl.-Biol.) Jens Rudat
Leitung: Biokatalyse, Grundvorlesung "Biochemie", Mikroskopie-Anleitung

Gruppe:

Sprechstunden:

nach Vereinbarung

Raum:

118 in 30.44, 1. OG

Tel.:

+49 721 608-48428

Fax:

+49 721 608-44881

jens rudat∂ kit edu
Fritz-Haber-Weg 4, 76131 Karlsruhe
Publikationen
2023

Self-healing Fuel Cells by Biological Actuators

Gartner, P.; Lanza, G.; Rudat, J.; Bilger, M.; Grünert, T.; Nesterov-Mueller, A.; Zimmerer, N.; Quarz, P.; Scharfer, P.; Schabel, W.; Jung, A. P.; Stahlberger, M.; Bräse, S.

2023. Procedia CIRP, 116, 161–166.

doi:10.1016/j.procir.2023.02.028

Selective Peptide Binders to the Perfluorinated Sulfonic Acid Ionomer Nafion

Schmidt, D.; Gartner, P.; Berezkin, I.; Rudat, J.; Bilger, M.; Grünert, T.; Zimmerer, N.; Quarz, P.; Scharfer, P.; Brückel, J.; Jung, A. P.; Singh, P.; Pooja, P.; Meier, B.; Stahlberger, M.; Schabel, W.; Bräse, S.; Lanza, G.; Nesterov-Mueller, A.

2023. Advanced Functional Materials, Article no: 2214932.

doi:10.1002/adfm.202214932

2022

2021

2020

2019

2018

2017

2016

2015

Chemical synthesis and enzymatic, stereoselective hydrolysis of a functionalized dihydropyrimidine for the synthesis of β-amino acids

Slomka, C.; Zhong, S.; Fellinger, A.; Engel, U.; Syldatk, C.; Bräse, S.; Rudat, J.

2015. AMB Express, 5 (1), 85.

doi:10.1186/s13568-015-0174-8

2014

2013

2012

2011

2010
Curriculum vitae
Wissenschaftlicher Werdegang
| | |
| --- | --- |
| seit Feb 2022 | Privatdozent, venia legendi für das Fach "Technische Biologie" |
| seit Nov 2012 | Akademischer Rat am KIT-CS, Institut für Bio- und Lebensmitteltechnik, Bereich II: Technische Biologie |
| 2006 – 2012 | Gruppenleiter "Biokatalyse" am KIT-CS (bis 2009 Uni Karlsruhe), IBLT_II: Technische Biologie |
| 2001 – 2006 | Promotion am Institut für Mikrobiologie & Biotechnologie der Universität Bonn bei PD Dr. René M. Fakoussa: Enzymatische Decarboxylierung von Benzenpolycarbonsäuren |
| 1995 – 2000 | Studium der Biologie (Diplom) an der Rheinischen Friedrich-Wilhelms-Universität Bonn |
Auszeichnungen
3. Preis beim Innovationswetttbewerb NEULAND_2022 in der Kategorie "Ideenpreis" für das Projekt BioHealing - Selbstheilende Brennstoffzelle
Preis für exzellente Lehre in der Fakultät für Chemieingenieurwesen und Verfahrenstechnik des KIT (2012)
Stipendiat der Graduiertenförderung des Landes Nordrhein-Westfalen (Promotionsstipendium 2001-2003)
Forschungsinteressen
Biotransformation von Stickstoff-Heterozyklen (Hydantoine, Dihydropyrimidine, Diketopiperazine) sowie von kanonischen und nicht-kanonischen Aminosäuren, u.a. für halbsynthetische Penicilline.
Bakterieller Aromaten- und Stickstoff-Stoffwechsel.
Nutzung nachwachsender Rohstoffe zur Synthese von Feinchemikalien.
Molekularbiologische und verfahrenstechnische Optimierung von Enzymreaktionen: Genetic engineering, heterologe (Über-)Expression, verschiedene Immobilisierungsverfahren.

Internationale Forschungskooperationen
2008 – 2012 und 2016-2017 Mitglied des europäischen Förderprogramms COST in den Forschungsverbünden "CASCAT – Cascade chemo-enzymatic process" sowie "Systems Biocatalysis". Teilnahme an zwei COST-Sommerschulen und zahlreichen internationalen Workshops durch fünf Doktorand*innen der Gruppe.
2010 – 2015 Beteiligung an zwei Forschungskooperationen mit Südafrika (University of Cape Town und University of Western Cape); hierdurch mehrmonatiger Forschungsaufenthalt von sieben Mitarbeiter*innen des Lehrstuhls dort sowie Gegenbesuche südafrikanischer Wissenschaftler*innen.

Seit WS 2016/17 Projektleiter einer Kooperation mit dem China Scholarship Council, darüber Betreuung einer chinesischen Doktorandin im Projekt LigArom
WS 2018/19 Organisation und Betreuung eines Forschungsaufenthaltes einer Iranischen Gastwissenschaftlerin
Lehrtätigkeiten
Grundvorlesung "Biochemie", Grundpraktikum "Biologie im Ingenieurwesen" (Mikrobiologie), Hauptfachvorlesung und Seminar "Industrielle Biokatalyse" für die Studiengänge Bioingenieurwesen, Chemieingenieurwesen, Biologie und Bioökonomie; Prüfungsberechtigung für Abschlussarbeiten in den genannten Studiengängen sowie im Lehramtsstudiengang Naturwissenschaft und Technik (NwT).
Öffentliche Vorträge, z.B. Karlsruher Nacht der Wissenschaft, Stuttgarter Wissenschaftsfestival, Akademie für Wissenschaftliche Weiterbildung (AWWK), Wissenschaft und Musik, Science Slam (1. Platz Microbe Slam 2018), KIT - Kinder-Uni
Sonstiges
Gutachtertätigkeit für die Zeitschriften Nature Communications, Applied Microbiology and Biotechnology, Biocatalysis and Biotransformation, Journal of Biotechnology, Molecules, Enzyme and Microbial Technology, Applied Biochemistry and Biotechnology, International Journal of Molecular Sciences sowie AMB Express.
Mitgliedschaft in der Vereinigung für Allgemeine und Angewandte Mikrobiologie VAAM sowie der DECHEMA Gesellschaft für Chemische Technik und Biotechnologie; Mitglied der Fachgruppen Biotransformationen und Weltraummikrobiologie.